Zapper Ultra Trio and Rife Healing Belt
Product Code:
zdutb
Availability:
In Stock
2 or more $587.88
3 or more $587.88
4 or more $575.10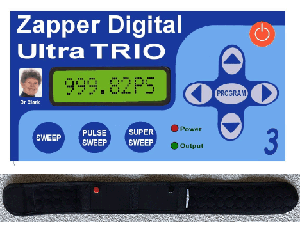 *The New Zapper Ultra Trio's new features include Super Sweep, Pulse Sweep and SWEEP
The machine comes with everything you need.
We have the Frequency list translations on our BLOG,
You can also access the English frequency list by clicking on FREQUENCY REFERENCE INDEX at the top of the page and scroll down just a little.
The machine is easy to use, only takes a minute or two to program once you know how and we are available for support by either phone or email should you have any questions. We also have Youtube videos available that will walk you through all of it. They come with everything you need. Straps, extra straps, leads, extra leads, power that will work in any country, instruction manual, frequency manual and case.
Giving You The Edge Naturally
A CURE FOR ALL DISEASES?
Yes! That is what Dr. Hulda Clark says. Many diseases which are claimed to be incurable are now are being healed through an amazing electro-therapy called a "HULDA CLARK DIGITAL FREQUENCY ZAPPER".
Purchase Zapper Digital Ultra Tro if .....
You Require Quad Zapping feature: Output to 4 straps
You Require a Clinic Standard Zapper that can be used by 2 people simultaneously
You require the precision and power of the 24Ultra Quartz Crystal Core
You want to try natural Zapper Therapy for treatment of your illness or Disease
You Require a powerful zapper for treatments.
You want a machine that does not require buying 'extra memory keys or cards'
You require a Zapper that can run larger frequency ranges up to 1 Megahertz
The Zapper Digital Ultra is one of our most powerful Zappers
The Belt is 30 inches long and 3 1/4 inches wide
Ordering the machine, mat or belt together will save you some money. Go to the machine page for either the Rife Machines or the Hulda Clark Zappers
The Rife Healing Belt will allow you to extend the Rife Healing Mat size for larger individuals. Please look at the BLOG for a more extended description of this. Here is that PAGE just click the link on that page and it will take you to much more information on this and the Rife Healing Mat.
The Belt will also allow you to easily wrap it around a leg, arm, head, neck, it's really quite versitile.
Used with the Rife or Zapper Professional V2, you can adjust the voltage down to 14.5v or 12.5v. This will allow you to use the Belt in direct contact with the skin. If you find you still have sensitivty using it at the 14.5v then drop that down to 12.5.
If you are using the Rife Ultimate or Zapper Ultra - you will probably still want to use a thin material between you and the Rife Healing Belt since the voltage is not adjustable for these two models.
Write a review
Your Name:
Your Review:
Note: HTML is not translated!
Rating:
Bad
Good
Enter the code in the box below: