Rife Digital Ultimate Trio & Rife Healing Belt
Product Code:
RifeTrio & Rife Belt
Availability:
In Stock
2 or more $597.08
3 or more $597.08
4 or more $575.10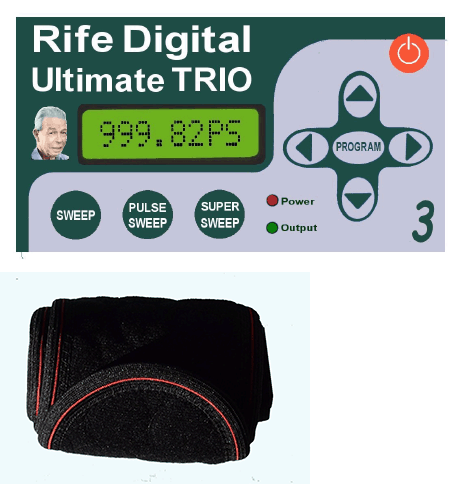 *The New Rife Ultimate Trio's new features include Super Sweep, Pulse Sweep and SWEEP
The Object of Super Sweep is to sweep all frequencies. This sweeps through all 1 million frequencies. The Super Sweep – 1 Second per frequency provides the user a full spectrum "zap" of all frequencies over a period of about 7 hours. These new functions are provided on much more expensive machines such as the GB4000 and have had good results, so we are now providing our customers with the same technology.
With the Rife Healing Belt - you can place this under a thin fitted bed sheet and sleep with it all night, or you can wrap it aroung the body, arm, leg, neck, head, etc. If you feel any sensitivity with that in direct contact with the skin then use a thin t-shirt, shirt, pants, some thin material between you and the belt. You shouldn't feel anything. I use it with a thin pair of leggings and use it wraped around my upper thigh. I find it to be most convienient for me that way. And I sleep with it under my bed sheet. The Rife Healing Mat is a little larger than the Belt.
Pulse SWEEP - Sweeps through all 10 frequencies in the set, 1 second at a time and will continue to do that till you stop it or pause it. This is also good to use if you don't have time to do a full treatment on SWEEP. SWEEP is what you want to use most of the time. Here is more information on this. PULSE SWEEP
The machine comes with everything you need.
We have the Frequency list translations on our BLOG,
You can also access the English frequency list at the BLOG by clicking on FREQUENCY REFERENCE INDEX at the top of the page and scroll down just a little.
The machine is easy to use, only takes a minute or two to program once you know how and we are available for support by either phone or email should you have any questions. We also have Youtube videos available that will walk you through all of it. They come with everything you need. Straps, extra straps, leads, extra leads, power that will work in any country, instruction manual, frequency manual and case.
How Can This Work?
Dr. Rife discovered that when viruses, bacteria and parasites are bombarded with electrical pulses of the right frequency, they shake apart. This is an inherent characteristic shared by all objects and living beings called "Resonant Frequency," which is the frequency at which an object naturally vibrates. Resonant frequencies are what makes a string on a stringed instrument produce a certain note. But resonant frequencies, in addition to producing music can also cause objects to shake so uncontrollably that their stability is undermined. This is what happened to the Tacoma Narrows Bridge in 1940. The wind reached resonance with the bridge and it shook apart. The same is true with pathogens. When the frequency being introduced into the body by way of feet and/or hand straps reaches resonance with whatever pathogen it resonates with, it undermines it's stability and kills it.
Another example is when a soprano hits a high note and a wine glass shatters. A simple premise and a well kept secret by the medical powers that be.
The machines are completely programmable. So, when new frequencies become available you will be able to use those as well without having to purchase anything else.
Write a review
Your Name:
Your Review:
Note: HTML is not translated!
Rating:
Bad
Good
Enter the code in the box below: