Rife Digital Professional V2 & Rife Healing Mat
Product Code:
RDP with RHM
Availability:
In Stock
2 or more $878.68
3 or more $854.68
4 or more $836.10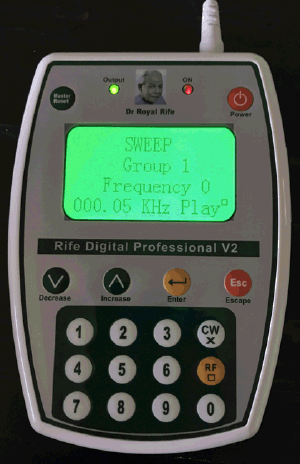 *The New Professionals are in 3
Languages
actually on the screen: English, Spanish, Japanese. The new machines also come with a USB drive that will have many different translations for the Instruction Manual. You can also see this on the BLOG here is that
PAGE
The New Pro series are switchable, 17v, 14.5v, 12.5v, so any sensitivity issues can be resolved by switching down the Voltage. With tests we find that we can use the new Rife Healing mat, without a T-shirt with the setting switched down to 14.5v or 12.5v. If you feel sensitivity at the 14.5v drop it down to the 12.5v. You shouldn't have any sensitivity at that level, but if you do, go back up to more voltage and use a thin T-shirt, pants, or put it under a thin bed sheet while sleeping with it.
The Professional has 25 Groups. Groups 21 - 25 are Empty, so you can add your own groups there instead of deleting the preset groups. Just makes things neater. So when you want to change to another frequency set you can just choose your group.
We have the Frequency list translations on our
BLOG
, Also with the machine there will be a USB drive that will have additional language translations for the instruction manuals. This too is available on the BLOG and here is that
PAGE
.
You can also access the English frequency list on the BLOG by clicking on FREQUENCY REFERENCE INDEX at the top of the page and scroll down just a little.
The machines are programmable. Also come with default frequencies and have the Pulse SWEEP, Super SWEEP, Convergence SWEEP functions in addition to the SWEEP, RUN, & Pulse RUN Functions.
They come with a Frequency/instruction manual and everything you need. The machines are simple to use and we are available by phone or email should you have any questions or need any support.

The Rife Healing Mat will connect to the machine. This is extra. It can be placed over a particular part of the body, you can place your bare feet on it, or you can lie on it in addition to being able to wrap it around a sore leg muscle. The mat can also be placed under a thin bed sheet and you can sleep with that all night long. It connects to the machine so nothing is connected to you. Nothing to intrrupt your sleep.
This latest upgrad has Velcro on the ends so you can wrap it around your body and have it hold in place with the Velco.
And with the Rife or Zapper Professional V2 you can drop the voltage down to 14.5v and if still you feel some senasitivity to that drop it down to 12.5v. You should't feel any sensitivity at that voltage, but if you do use it with a thin materal between you and the mat at the 17v level.
The mat is also great for kids and pets. If you need to wrap it around an arm, head, neck, etc., you may want to use the Rife Healing Belt
*Results may vary: ...This site and Sellonline2 makes no warranties or representations about the accuracy or completeness of this site content or of the content of any site or sites linked to this site. Neither the This site and Sellonline2 nor any of its affiliates shall be liable for any direct, incidental, consequential, indirect or punitive damages arising out of access to or use of any content of this site or the content of any site or sites linked to this site....
For the full disclaimer click HERE
Write a review
Your Name:
Your Review:
Note: HTML is not translated!
Rating:
Bad
Good
Enter the code in the box below: