PortaZone Ozonator
Product Code:
PortaZone
Availability:
Out Of Stock
Ozonator Dr Hulda Clark - More than just a water ozonator
This is the ONLY Ozonator that has been tested, approved and mentioned in Dr. Clark's books! The developer of this product personally worked with Dr. Clark on the development of the PortaZone Ozonator over the last 12 years! It is a water ozonator and so much more.

The PortaZone™ Ozonator can be wall mounted or used on the coutertop. It is fully portable and comes with a travel/storage box.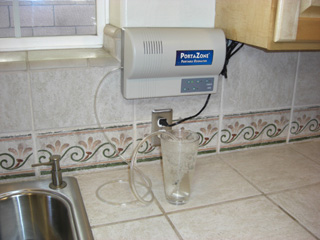 Specifications:
Model: PortaZone™ PZ-250
Ozone output: 250 mg per hour
Air Pump: 1.5 LPM
Ozone production: Duel Dieletric Corona Discharge
Dimensions: 12" l x 8"d x 4.25" h
Weight: 5.5 lbs Shipping Weight: 7 lbs
Watts: 18 Volts: 110 Amps: 0.15
USA Limited Warranty: 1 year parts & labor

What is Ozone?

Ozone (O3) is the triatomic form of oxygen (O2). It is oxygen in its most active state and is an extremely potent oxidant that has been shown to possess broad-spectrum antimicrobial activity. Ozone is not just another disinfectant. Ozone is a true sterilant. It has the ability to destroy not only bacteria, but also viruses, spores, fungus, mold, mildew, cysts, and many other contaminants while at the same time removing dissolved organic materials by oxidation. When ozone breaks down it naturally reverts back to oxygen (O2).

Don't You Need An Oxygen Tank?

The PortaZone™ Ozonator uses ordinary air from the environment, which contains approximately 20+% oxygen. This ambient air is drawn by a pump and then channeled through an "ozone chamber" inside the unit. Special technology converts the O2 (oxygen), naturally existing in the air, to O3 (ozone). The ozone then travels through clear, ozone-resistant tubing with a diffuser on the end. By placing the diffuser in a container of water you will see the ozone gas escaping into the water. No separate oxygen tank is needed to produce ozone in this manner. The strong distinctive smell verifies the presence of ozone.

Here Are Some Uses For The PortaZone™ it is more than just a water ozonator.

Ozonate Your Drinking Water!

Place the diffuser in a glass or container of water. Turn unit on and run for 3-5 minutes per 8 ounces of water for best saturation. It is best to ozonate a glass at a time, as ozone will dissipate from the water within 15-20 minutes. Using distilled water will increase the amount of time the ozone will remain in the water.

Ozonate Your Bath Water!

Draw bath water in the normal manner. Place the unit a safe distance from the bath and place the diffuser in water. Do not get in the tub with unit running. Make sure area is well ventilated. Run the unit in the bath water for approximately 10-15 minutes. Unplug the unit and remove it from the area. Enjoy a luxurious, relaxing and oxygenated bath!

Clean And Disinfect Your Foods!

Fill up your sink or large basin with water. Place the unit a safe distance form the sink and place the diffuser in water. Turn unit on and run for 2-3 minutes. Separate and place fruits, vegetables, eggs, meats, etc. in water with unit still running. Brush and cleanse foods thoroughly while they are being ozonated for another 2-3 minutes. Remove foods from water and air dry. Your produce will stay fresher longer and taste better! Use a bag, shoebox or glass jar to ozonate grains, breads, nuts or other dry foods for 2-3 mins. Use a separate diffuser than the one you use for your drinking water, bath or other use.

Ozonate Your Refrigerator, Closet, Auto, Etc.!

The PortaZone™ may be used to eliminate odors, molds and mildew from many different small areas in your environment. Remove diffuser from the end of the tube for air treatment and place into the area to be ozonated. Close off the area and ozonate for up to an hour. Some areas may require several treatments to be effective. DO NOT run the unit for more than 2-3 hours at a time. This may cause overheating and void the warranty. The PortaZone™ is not meant to be used as an Air Purifier on a regular basis. If you would like an ozonator made specifically for air purification please contact us.

Ozonate Olive Oil!

There is an optional tube extension with a diffuser on the end specifically made for ozonating Olive oil. To use, remove the diffuser on the end of the PortaZone™ tube then add the extension tube with its own diffuser on the end. Place the diffuser into Olive oil and ozonate for 25 minutes. Do not use the same diffuser for Olive Oil as you do for water.

The PortaZone Ozonator comes with 1 ceramic diffuser, 1 Olive Oil extension (which also has a ceramic diffuser on the end), an instruction manual and is packaged in a nice white carry box

Please Note:

Prices and availability are subject to change without notice. All Sales Final - returns for store credit only with prior authorization only, 20% restocking fee applies. 12 month replacement.

DISCLAIMER NOTICE: Although some of our customers may be interested in the research and statements of Dr. Hulda Clark, this company, its website and owner do not adopt any health or disease related claims based on her work or otherwise. Our products are not intended to diagnose, treat, cure or prevent any disease and we do not provide such information in any form. Although our products are in conformity with Dr. Hulda Clark's protocols, we are not owned nor operated by Dr. Hulda Clark. She does not sell any supplements on any websites, even if the websites appear to represent her.
PortaZone Ozonator more than just a Water Ozonator
Write a review
Your Name:
Your Review:
Note: HTML is not translated!
Rating:
Bad
Good
Enter the code in the box below: